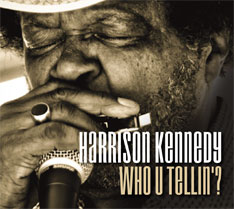 HARRISON KENNEDY - Who U Tellin'?
What better way to start our 20th Anniversary year than with the release of a new CD from 2016 JUNO Award winning Blues Singer/Songwriter HARRISON KENNEDY. The 12 down home originals and one cover "Patches" find Harrison at the peak of his creative powers. Joining him on the CD is a stellar line up of talent. JIMMY BOWSKILL (Sheepdogs, Blue Rodeo) as well as fellow JUNO winners JACK DE KEYZER and JULIAN FAUTH, plus multiple Maple Blues Award winning co-producer ALEC FRASER (Jeff Healey Band, Fraser and Daley).
Until it's worldwide release May 19th, the CD will be available exclusively here on our website, and from Harrison at live performances. So here's your chance to enjoy "Who U Tellin' ?" ahead of the crowd.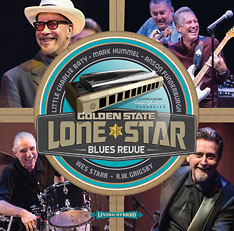 Golden State Lone Star Blues Revue
ON THE ROAD AGAIN
The Golden State Lone Star Blues Revue crew hit the road again this March in support of their 4 time Blues Music Award nominated Electro-Fi album. (Best Traditional Blues Album, Best Band, Best Bass, Best Harp). The cross North America Tour starts March 15th and ends April 23rd. It will also include 6 Harmonica Blowout performances featuring MAGIC DICK of J. GEILS Band fame, SUGAR RAY NORCIA, as well as MARK HUMMEL, ANSON FUNDERBURGH, CHRIS BURNS, R.W. GRIGSBY and WES STARR.
Tour Dates: www.markhummel.com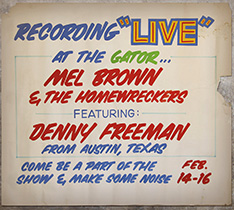 Under Yonder: Mel Brown
Live at Pop the Gator 1991
The long lost 1991 live at "Pop the Gator" concert tapes by the late Mississippi Soul-Funk-Jazz-Blues Guitar Legend MEL BROWN, resurface to the delight of Music Lovers everywhere, with his ultra-tight band, The Homewreckers (John Lee. Leo Valvassori, Randall Coryell) and Special Guest Austin Guitar Ace DENNY FREEMAN (Bob Dylan band, Taj Mahal, Vaughan Brothers).
"Mel Brown was Funky, Primeval and Perfect" - Rolling Stone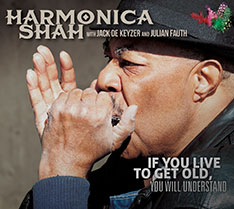 If You Live To Get Old
Brand New Release from Detroit's Top Bluesman Harmonica Shah.
"This is Authentic Hard Core Blues of the First Degree" - Blues & Rhythm.
With Juno Award winners, Guitar Ace JACK DE KEYZER and Blues Piano Maestro JULIAN FAUTH. Recorded by Peter J.Moore (Neil Young, Bob Dylan, Cowboy Junkies).
"This is what many of us wish we could do, and what few of us can. He's just...got it" - Modern Blues Harmonica Forum.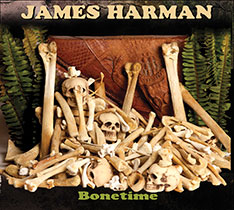 Bonetime
James Harman is back with a vengeance. # 1 on the Living Blues Radio Charts.
"Bonetime is Manna from Blues Heaven" - Art Tipaldi, Blues Music Magazine.