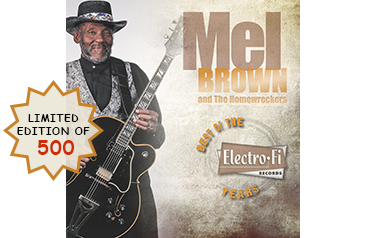 Mel Brown and the Homewreckers
Best of the Electro-Fi Years
Special Vinyl LP
It's hard to imagine a Guitarist who could win the admiration of such a diverse group of Artists as: T-Bone Walker, B.B. King, Jimi Hendrix, Stevie and Jimmie Vaughn, Willie Nelson, Waylon Jennings, Etta James, Bobby Blue Bland, John Lee Hooker and Buddy Guy. Mel Brown was such a Guitarist. Selecting a "Best Of" collection from an Artist of Mel's limitless creativity was no easy task. Hopefully we've been able to shine a light on his Soulful, Blues Guitar driven tracks recorded for the Electro-Fi label between 1999 - 2009. Mel's bringing it to the" boiling point "adaptation of "In The Mood" is a Master Class, and his 12 minute reimagining of "Hey Joe" celebrates both his musical Released in a numbered limited edition of just 500 copies to commemorate the 10th anniversary of Mel Brown's passing.
" An eminently worthy addition to Mel Brown's legacy. The music has been
specially remastered for Vinyl and sounds gorgeous".
- John Valenteyn, Maple Blues magazine
Click on our Vinyl Section to purchase.

NEW RELEASE FROM
FRUTELAND JACKSON
NOW AVAILABLE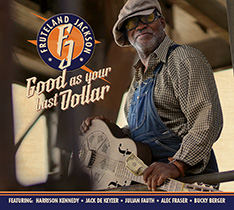 Good As Your Last Dollar
Chicago Acoustic Bluesman FRUTELAND JACKSON with Special Guests: HARRISON KENNEDY, JACK DE KEYZER, JULIAN FAUTH, BUCKY BERGER and ALEC FRASER.
"Forthright and Intelligent, Fruteland has the Style and Improvisational instinct to carry on as one of the Premier Acoustic Blues Artists of Today". - DOWNBEAT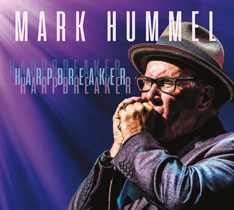 MARK HUMMEL
Harpbreaker
Grammy nominated Blues Harp Legend MARK HUMMEL unleashes an all instrumental Harmonica album, and it redefines to scope and beauty of what the instrument is capable of in the right hands. The disc features Mark's hand picked selection of newly recorded, live, previously released and unreleased material. Mark is joined by his stellar band of R.W. Grigsby (bass) and Wes Starr (drums) as well as Blues Guitar Legends ANSON FUNDERBURGH, LITTLE CHARLIE BATY, CHRIS "Kid" ANDERSEN, BILLY FLYNN and RUSTY ZINN. Recorded at Kid Andersen's famed GREASELAND Studios in California, as well as at JOYRIDE STUDIO in Chicago. Blues Harmonica and Guitar aficionados everywhere will be delighted with the high standard of excellence set on HARPBREAKER.
"Real Deal Blues" - Elmore Magazine NYC
"Titanic...Pure Gold" - Pop Culture Classics
"Tasty, yet Nasty...Mark Hummel is a Harmonica Monster" - Bluesmobile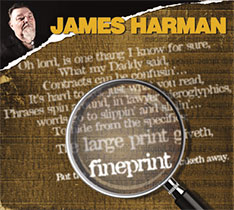 JAMES HARMAN
fineprint
Blues Harp Legend JAMES HARMAN hit # 1 on the Living Blues Radio Chart with his Electro-Fi debut disc "Bonetime" back in 2015, not to mention 5 BMA nominations including "Album of the Year". Now James is back with a Brand New CD "fineprint" and it's a cause for celebration, with 13 Original tracks, both newly recorded and specially selected from James' incredible music archives.
Produced by James Harman and guitarist extraordinaire Nathan James. Special guests include Kid Ramos, Gene Taylor and Jeff Turmes (Mavis Staples). James describes himself as a Full Service Bluesman since 1962, and he's Z.Z. Tops first call harpman. "fineprint" is sure to be welcomed into the company of the top Blues recordings of 2018.