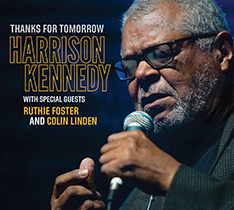 Juno Award Winning Bluesman HARRISON KENNEDY is back with a brand new release on Electro-Fi Records. THANKS FOR TOMORROW is an original Soul Blues
workout with Very Special Guests RUTHIE FOSTER and COLIN LINDEN.
Co-produced by Harrison and keyboard wizard JESSE O'BRIEN. Best known as a
founding member of Holland-Dozier-Holland's 1970's Soul supergroup The Chairmen
of the Board, Harrison has gone on to become one of the 21st century's most innovative Blues singer-songwriters garnering multiple Blues Music Award nominations from theBlues Foundation of Memphis, TN.
Harrison's stellar vocal work and heartfelt original songs have never been more
effectively combined than on this uplifting and deep down soulful release "THANKS
FOR TOMORROW". It's destined to become one of 2022's most talked about, and
listened to Blues music recordings.
"Harrison Kennedy is a Modern Blues Master of true substance" - Living Blues.
"Ingenious original Blues of Charm and Originality" - MOJO Magazine.

MARK HUMMEL Proudly Presents
East Bay Blues Vaults 1976 - 1988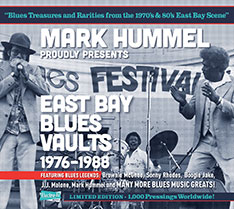 Cover shot: Ed Hummel 1980.
Special Thanks to Tom Mazzolini San Francisco Blues Festival
22 Ultra-Rare Blues Recordings from the 70's and 80's featuring BROWNIE McGHEE, SONNY RHODES, BOOGIE JAKE, RON THOMPSON, MARK HUMMEL and the Blues Survivors, J.J. MALONE, PARIS SLIM, COOL PAPA, BBQ BARNES, MISSISSIPPI JOHNNY WATERS and More. Lovingly Remastered by KID ANDERSEN at GREASELAND STUDIOS, San Jose, CA.
Grammy Award nominated West Coast Harp Ace MARK HUMMEL opens the vaults to the Golden Age of the East Bay - San Francisco Blues Scene and the Legendary Artists that both inspired and welcomed him in the 1970's and 80's. The CD includes a wonderful, previously unreleased version of Walk On from Brownie McGhee, engineered by D.E. Wellhausen in 1983 at Wellhausen Studios, S.F. Also featured on the track are FRANCIS CLAY (ex-Muddy Waters drummer) and Mark Hummel (Harmonica).
AVAILABLE: September 1/21 in a limited edition of 1,000 CD's Worldwide. $20 U.S.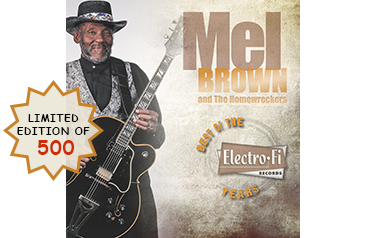 Mel Brown and the Homewreckers
Best of the Electro-Fi Years
Special Vinyl LP
It's hard to imagine a Guitarist who could win the admiration of such a diverse group of Artists as: T-Bone Walker, B.B. King, Jimi Hendrix, Stevie and Jimmie Vaughn, Willie Nelson, Waylon Jennings, Etta James, Bobby Blue Bland, John Lee Hooker and Buddy Guy. Mel Brown was such a Guitarist. Selecting a "Best Of" collection from an Artist of Mel's limitless creativity was no easy task. Hopefully we've been able to shine a light on his Soulful, Blues Guitar driven tracks recorded for the Electro-Fi label between 1999 - 2009. Mel's bringing it to the" boiling point "adaptation of "In The Mood" is a Master Class, and his 12 minute reimagining of "Hey Joe" celebrates both his musical Released in a numbered limited edition of just 500 copies to commemorate the 10th anniversary of Mel Brown's passing.
" An eminently worthy addition to Mel Brown's legacy. The music has been
specially remastered for Vinyl and sounds gorgeous".
- John Valenteyn, Maple Blues magazine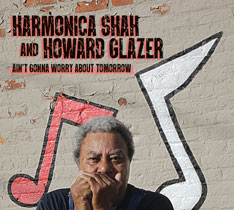 You didnít think a global pandemic and the complete obliteration of the music industry, would stop us from trying to bring you the best in traditional Blues Music did you? We didnít think so, and believe me we truly appreciate your support. The timely titled ďAINíT GONNA WORRY ABOUT TOMORROWĒ is the long awaited reunion recording from the Award winning Detroit Blues Duo of HARMONICA SHAH and HOWARD GLAZER. Recorded in Detroit this past January and featuring some of the Motor Cityís finest players including special guest percussion ace SKEETO VALDEZ. The albumís 13 Deep Blues tracks, the majority of them original, showcase the unique talents of SHAH and HOWARD at the peak of their, respective and combined talents, together again on disc for the first time in 18 years. ďAINíT GONNA WORRY ABOUT TOMORROWĒ is a reunion party that Blues Music lovers worldwide will not want to miss !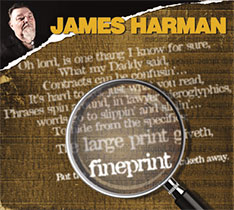 JAMES HARMAN
fineprint
Blues Harp Legend JAMES HARMAN hit # 1 on the Living Blues Radio Chart with his Electro-Fi debut disc "Bonetime" back in 2015, not to mention 5 BMA nominations including "Album of the Year". Now James is back with a Brand New CD "fineprint" and it's a cause for celebration, with 13 Original tracks, both newly recorded and specially selected from James' incredible music archives.
Produced by James Harman and guitarist extraordinaire Nathan James. Special guests include Kid Ramos, Gene Taylor and Jeff Turmes (Mavis Staples). James describes himself as a Full Service Bluesman since 1962, and he's Z.Z. Tops first call harpman. "fineprint" is sure to be welcomed into the company of the top Blues recordings of 2018.