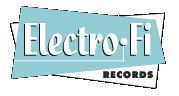 "Toronto based ELECTRO-FI Records has carved out a reputation for itself as one of the few remaining practitioners of Genuine Blues recordings. A sort of Chess Records of the Great White North. The names of those who have come through the recording studios of Electro-Fi Records reads as a Who's Who of the Blues, and Electro-Fi captures many of these artists at the top of their game."

– LIVING BLUES Magazine 2008.

"Canada's Top Blues Imprint" – JUKE Magazine U.K.
Electro-Fi Records was founded in 1996 by Blues aficionado ANDREW GALLOWAY with a great deal of help from both his long time friend and high school Garage band mate GARY COLLVER and sonic guru extraordinaire ALEC FRASER. The label's first signing was Chicago harp master MALCOLM "Little Mack" SIMMONS and Electro-Fi's first release in January of 1997 was "Little Mack is Back" (EFI-3355).
With over 50 original releases in our first ten years of operation, we remain dedicated to preserving and promoting the Blues music that we love so dearly.
Electro-Fi is the Proud Home of:
Mel Brown and the Homewreckers – W.C. Handy Award winners
Snooky Pryor
Mark Hummel's Harmonica Blowout – Blues Music Award Nominee
Billy Boy Arnold
Fruteland Jackson – B.M.A. Nominee and Keeping the Blues Alive Award winner
Sharrie Williams – B.M.A. Nominee
Fathead – Two time Juno Award winners
Lil' Dave Thompson – W.C. Handy Award Nominee
Kenny "Blues Boss" Wayne – Juno Award Winner
Diana Braithwaite & Chris Whiteley
Harmonica Shah – Detroit Blues Hall of Fame Member
Julian Fauth – Juno Award Nominee
Miss Angel
Finis Tasby – B.M.A. Nominee
Enrico Crivellaro
Curley Bridges
Sam Myers – W.C. Handy Award Winner
Harrison Kennedy – Juno Award Nominee
Gary Primich
Paul Oscher – Blues Music Award Winner
Eddy B's Midnite Blues Party
Morgan Davis – Juno Award Winner
Johnny Laws
Willie "Big Eyes" Smith – W.C. Handy & Blues Music Award Winner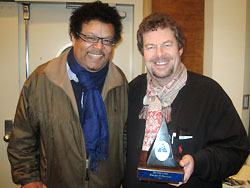 President and Founder Andrew Galloway
with Harrison Kennedy at the Blues Music Awards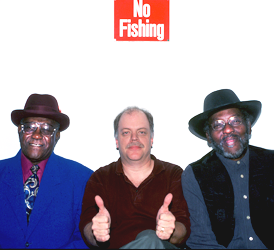 Photographer and Webmaster Gary Collver
with Snooky Pryor and Mel Brown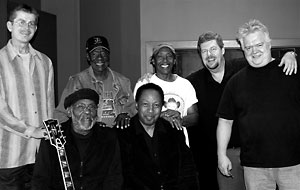 Producers Alec Fraser and Andrew Galloway with
Billy Boy Arnold, Mel Brown, Billy Flynn, Bob Stroger
and Willie Smith