Wishing you all the very best of the Holiday Season and proudly announcing the release of our new MARK HUMMEL CD WAYBACK MACHINE on January 17th, 2020.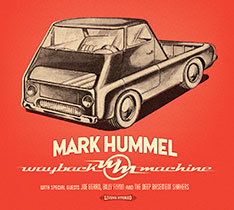 "MARK HUMMEL is one of the Very Top Notch Guys on the Blues Harmonica Scene Today. He's a Great Traditional Player." - BILLY BOY ARNOLD
Grammy Nominated Harp Ace MARK HUMMEL is moving forward by looking backwards, on his new Electro-Fi CD release "WAYBACK MACHINE" and he's picked a sweet spot in Blues history to explore, the glorious Bluebird Records sound of the 30's and 40's. Joining Mark on the disc is Chicago First Call Guitarist BILLY FLYNN, Red Hot West Coast Combo the DEEP BASEMENT SHAKERS, and Mississippi Bluesmaster JOE BEARD. The Dynamic 16 tracks on this album were recorded by CHRIS KID ANDERSEN at the legendary Greaseland Studios in San Jose, CA. No doubt Wayback Machine is destined to be one of the most talked about Traditional Blues releases of 2020!
"Mark Hummel is one of the finest and most diverse Harmonica players in the world. Wayback Machine manages to capture the spirit of an age. One of the finest works I've heard all year". - Bill Wilson, Reflections in Blue.
Mark will also be kicking off his long running Blues Harmonica Blowout Tour on January 3rd in Seattle with the 2020 Edition: SUPERSTARS OF THE BLUES HARP. It's aptly named as the line up features Mark along with MAGIC DICK from the J.Geils band, LEE OSKAR, JERRY PORTNOY from the Eric Clapton band, and Guitar Legend DUKE ROBILLARD, along with BOB WELCH and the stellar rhythm section of R.W.GRIGSBY and WES STARR. For
Complete Tour Dates and More Info Visit www.markhummel.com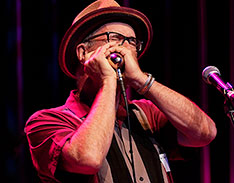 Photo: Bruce Greenaway


FRUTELAND JACKSON
FRUTELAND JACKSON hit the ball out of the park with his first new release in ten years on Electro-Fi Records "GOOD AS YOUR LAST DOLLAR" was well worth the wait. Recorded in Toronto with Special Guests: JACK DE KEYZER, HARRISON KENNEDY, JULIAN FAUTH, BUCKY BERGER and ALEC FRASER who also produced the disc. Fruteland, who was born in Mississippi and raised in Chicago, unleashed his unique brand of acoustic down home blues to many favourable reviews, and a 3 month run on the LIVING BLUES Radio Charts, along with a Top Five ranking on the ROOTS MUSIC REPORT Blues Chart. Don't miss Fruteland at Buddy Guy's on your next trip to Chicago, as well as on the 2020 Festival circuit, and schooling the next generation during his Blues In The School workshops. Info: www.fruteland.com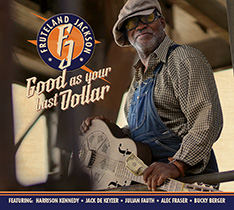 "Fruteland Jackson is a prodigious practitioner of the acoustic Blues. A true American
Original. One of a kind. Good As Your Last Dollar is his most powerful artistic statement". - Frank Matheis, LIVING BLUES MAGAZINE.
"Fruteland Jackson's Good As Your Last Dollar CD is a Gem of Acoustic Blues, with
compelling performances of his intriguing original Blues songs and fresh, choice interpretations of Classic Blues songs". - BLUES BLAST MAGAZINE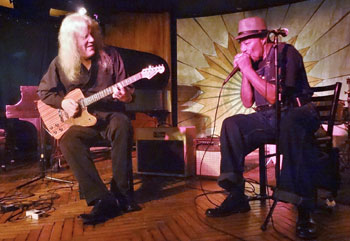 Photo: Debra Glazer
HARMONICA SHAH & HOWARD GLAZER together again!
We are delighted to share the news that Detroit's Dynamic Duo of the Blues, Harmonica Shah and Ace Guitarist Howard Glazer will be reuniting this January in the Motor City to record their first album together since 2003's Electro-Fi Release "Tell It To Your Landlord". Both have had active recording careers since then, but strong favourable reaction to their recent stellar live performances together have led to demand for a new disc. Watch for a Spring 2020 release from these two talented artists.
"Harmonica Shah is a Star in my book, and worthy of the attention of all Blues fans . Authentic, Hard Core Blues of the First Degree". Fred Rothwell, Blues & Rhythm U.K.
"Howard Glazer uses his solos to show us what playing Blues Guitar is all about". Soul Bag (France).

HARRISON KENNEDY
JUNO AWARD Winner HARRISON KENNEDY is also hard at work alongside Keyboard Ace JESSE O'BRIEN on a new album scheduled for release in 2020. They are the Steel City based creative team that gave us the award winning "This Is From Here" album in 2016. Harrison has done several European Tours this year, where he has built a loyal following of fans, but he'll be home for the Holidays and to continue pre-production work with Jesse on the new disc. Jesse also has been in much demand touring as a member of the Colin James Band and with Tom Wilson. More info on this much awaited project will be featured in the Spring 2020 edition of our newsletter. The "This Is From Here" album remains available on CD and limited edition Vinyl here on our website.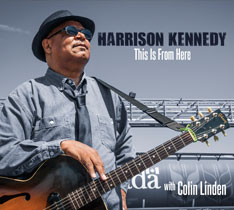 Both Jesse and Harrison, along with Shakura S'Aida and Duane Blackburn have been nominated for Maple Blues Awards. Congratulations to all of these fine Electro-Fi artists. The Awards Ceremony takes place Feb.3/2020 at Koerner Hall in Toronto. More Info at www.torontobluessociety.com

"Harrison Kennedy is a Modern Blues Master of True Substance"

- Living Blues.

GEORGE HARMONICA SMITH named to the Blues Foundation Hall of Fame Inductees Class of 2020. Ceremony to take place in Memphis, TN on May 6th, 2020. What great news about a very worthy addition to the Blues Foundation's Hall of Fame. Here at Electro-Fi we had the privilege of releasing the "Teardrops Are Falling" CD in 2011. A Live in Concert performance with Buddy Reed and the Rocket 88's band backing George in a club in Tempe, AZ. During June of 1983, just a few short months before his passing later that year. George truly was the Godfather of the West Coast Harp scene. Thanks to Mark Hummel And Buddy Reed for helping make the release of this disc possible. Now unfortunately out of print, it remains available on iTunes, Spotify and many other digital platforms.
www.blues.org

CATCHING UP WITH CHICAGO BLUES LEGEND BILLY BOY ARNOLD
Had the pleasure of spending some quality time this past Summer with one of my favorite Blues Artists and human beings when I caught up with Electro-Fi artist BILLY BOY ARNOLD at both the Chicago Blues Festival and the Ottawa Blues Festival where Billy performed as part of Mark Hummel's Harmonica Blowout Series. A spry 84 years old, Billy still looks the good side of 60, and his encyclopedic memory of the Chicago Blues scene dating back to the 1940's remains razor sharp. What a real pleasure to spend time with this gentleman, a true architect of the Chicago Blues Scene. Billy Boy Arnold has recorded 3 albums for the Electro-Fi label.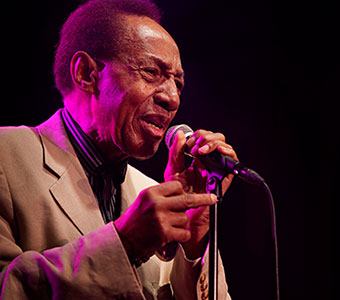 Photo: Bruce Greenaway

OUR OLD SCHOOL HOLIDAY GIFT TO YOU:
Available Only By Phone (416)251-3036 from DEC.15th to JAN15th.
Monday - Friday 9am - 6pm EST. Not Available Outside North America.
ANY 3 Electro-Fi single CD's for $25. Free Postage.
ANY 5 single CD's for $40. Also Free postage. Phone Order ONLY. VISA or M.C.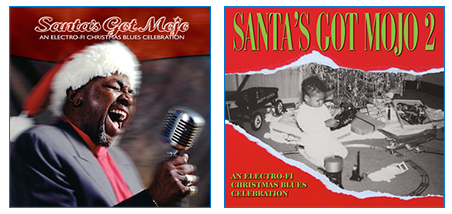 We'd like to take this opportunity to wish all our Blues Music loving friends worldwide A Very Merry Christmas and Happy Holidays on behalf of ourselves and the entire family of Electro-Fi Artists. Thanks so much for your support in 2019. We also want to wish one and all a very Happy, Healthy and Prosperous 2020!
Andrew Galloway Gary Collver
Our music is available on Amazon.com, iTunes, at finer record stores worldwide and direct from this site. Like us on Facebook.