Diana Braithwaite & Chris Whiteley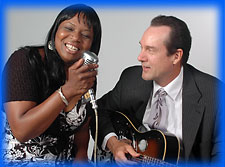 Acclaimed as "Blues Icons" by the Toronto Star, these two award winning performers have joined forces, keeping the blues alive. Kansas born multi-instrumentalist Chris Whiteley has been playing, writing and singing the blues for over 30 years. As a teenager he met blues legend Lonnie Johnson, and has since gone on to play with many great blues artists, including Sunnyland Slim, Taj Mahal, John Lee Hooker, Chuck Berry and John Hammond. Whiteley also performed and recorded with Blind John Davis, the great Chicago musician , who was the house piano player for Bluebird Records. Proficient on guitar, harmonica, trumpet and steel guitar, Whiteley has appeared on over 200 recordings, and his own recordings have led to many awards and accolades, including Jazz Report Blues Album of the Year, 4 Maple Blues Awards for his songwriting and horn playing, and 6 Juno nominations. He has performed throughout North America, including Saturday Night Live with Leon Redbone, Nashville's famed Bluebird Café, and a featured concert at the prestigious Chicago Blues Festival.
Dubbed as "Canada's National Treasure" by Blues FM 91.1Radio Show Host Danny Marks, Diana Braithwaite is a dynamic blues singer who in 1999 was chosen by Sarah Mclachlan as one from 400 singer/songwriters to open Lilith Fair at the Molson Amphitheatre where she kicked off the show with a powerful opening concert for the 18,000 in attendance. Diana's career as a solo singer-songwriter emerged as a teenager, but it was her opening show for John Lee Hooker at the Brunswick House in Toronto, that acclaimed her talent as a blues singer. Later on that same year, Albert Collins invited Braithwaite on the road to open the show for his band. Braithwaite's shows have led her into the company of some of the finest electric and acoustic blues guitarists including Mel Brown, Albert Collins, John Lee Hooker, Model T Ford and Jeff Healey. Braithwaite has recently released a CD single in the United Kingdom and Europe. Rollin and Tumblin features Chaka Khan's former bass player Roger Inniss on bass. Braithwaite and Whiteley have often worked together over the years, and in 2006 they recorded the album "Morning Sun", a collection of original songs written in the classic 30's and 40's style, for Electro-Fi Records.
The reaction has been extraordinary, and the album has received rave reviews from across North America. Downbeat Magazine praised the " special appeal " of their " attractive originals", and CBC radio called the album "Expressive and beautiful." The album was nominated for Blues album of the year.
The pair have maintained an active touring schedule, and together have continued to bring their unique brand of blues to appreciative audiences.